The Mutter Years : 2001 & 2002

Rammstein.com, January 2001 :
Flake: When the album has been released we are going on a long tour. Apart from Germany and big european countries we will also visit Asia, Australia, North and South America. It'll be a real worldtour.
The Mutter tour was held between January 2001 and July 2002.They performed 126 shows during that period, all around the world.
The band played songs from their three albums. More equipment and more creativity was used in the pyro on this tour.
The setlist was usually as follow :
01. 5/4
02. Mein Herz Brennt (Flash/ Flare / Heartlamp)
03. Links 2 3 4
04. Sehnsucht (Green fire)
05. Feuer Frei (Headflames)
06. Rein Raus
07. Adios (Flameguitar)
08. Mutter
09. Hallelujah
10. Zwitter
11. Weisses Fleisch (Boots / Flash Flakejacket)
12. Asche Zu Asche (Burning Mikestand)
13. Du Hast (Lyco)
14. Bück Dich
15. Engel (Propane)
16. Rammstein (Burning coat)
17. Sonne (Lyco)
18. Ich Will (Explosions)
19. Stripped (Flames)
Changes occured during the tour. Spieluhr and Nebel, for example, were played at the beginning of the tour..

The Costume changed a few times during this tour, it started with a white clothes theme, that changed to a black/brown clothes theme to the end of 2001. This changed to a grey scientific theme, which stayed until the end of the tour.
They played in arenas with bands like System of a down, Slipknot, Mudvayne, during the Pledge Of Allegiance tour in america. At the end of the Pledge of Allegiance Tour, Paul was replaced by Daron Malkian from System Of A Down because he could not attend the concert.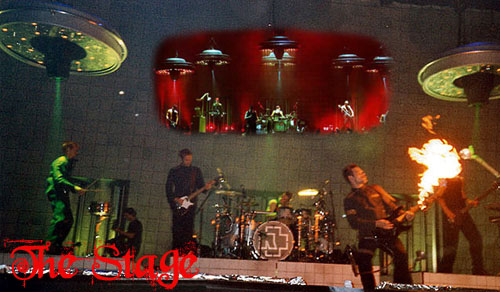 Go to Reise, Reise Tour >
< Back to Sehnsucht Tour